As Manchester United finally started to look like a force again in English football at the start of the 1990s, there was something of a rush among pundits to crown a 'new George Best' from the crop of 'fledglings' that Alex Ferguson had begun to bring through. Russel Beardsmore (!), Lee Sharpe, and Ryan Giggs all found themselves lumbered with this lazy tag at one time or another – yet Sharpe, ironically, is perhaps the man with the career trajectory that most closely mirrors that of the Belfast boy.
He'd been blooded gradually by Ferguson since his arrival at Old Trafford in 1988, debuting at left back after his £300,000 move from Torquay (a record for a youth player at the time), for whom he'd made just six appearances when Fergie came calling. However, things changed in November 1990 when United travelled to champions-to-be Arsenal in the Rumbelows Cup. Sharpe's famous hat trick from the left wing in that incredible 6-2 win launched him as the next big thing, and his league winner against Everton that weekend – followed by the introduction of the ridiculous 'Sharpie shuffle' celebration – confirmed the birth of a new star. A quicksilver wide player, it seemed that Sharpe just couldn't fail to steam past his marker and deliver precision cross after precision cross for the likes of Mark Hughes and Brian McClair. He loved getting his own name on the scoresheet as well, and registered some stunning strikes in his time at United, often barrelling in from the left to leather one into the far corner or going for the audacious volley before anyone else had figured out where the ball was going to drop. Sharpe would emerge as the wild card in United's season, playing a crucial part in their run to two cup finals in 1990-91.
Football itself was still recovering from years as a pariah sport, basking in the warm afterglow of Italia '90, and trendy young 'star' footballers were still relatively rare. Sharpe seemed set to take the Rome-bound Paul Gascoigne's mantle as the English game's hottest property – a teen hearththrob, the cheeky chappy who was as hedonistic on the pitch as he was off it. His love of the game was evident in those early days every time he played, infectious grin permanently etched on his face as he left much more experienced defenders trailing in his wake. He would come up with all manner of ludicrous celebrations that would be imitated on playgrounds across the country the following Monday, from the lambada to the corner flag Elvis impersonation. Outside of football, he was something of a proto-Beckham, lifestyle-wise, developing a reputation for enjoying Manchester's 'busy' nightlife – although tabloid rumours that he was taking drugs were malicious and untrue. He would play in all of United's big games that season, walking off with the PFA Young Player of the Year award. World domination, it seemed, was only a matter of time.
However, 1990-91 was as good as it really got for Sharpe. Although the following season would see him become the youngest Manchester United footballer to win an England cap since Duncan Edwards, it would also mark the start of the injury jinx that would blight his career, as he succumbed to first a groin problem and then, frighteningly, viral meningitis. When he returned, towards the end of the campaign, he didn't seem quite the same player, and to compound matters, his golden-boy status had been usurped by Giggs, a truly special talent. The arrival of Andrei Kanchelskis provided yet another rival for a spot on the flanks as well. Frustratingly, the flashes of sheer quality returned every now and then as he would embark on a purple patch, but they never stuck around long enough.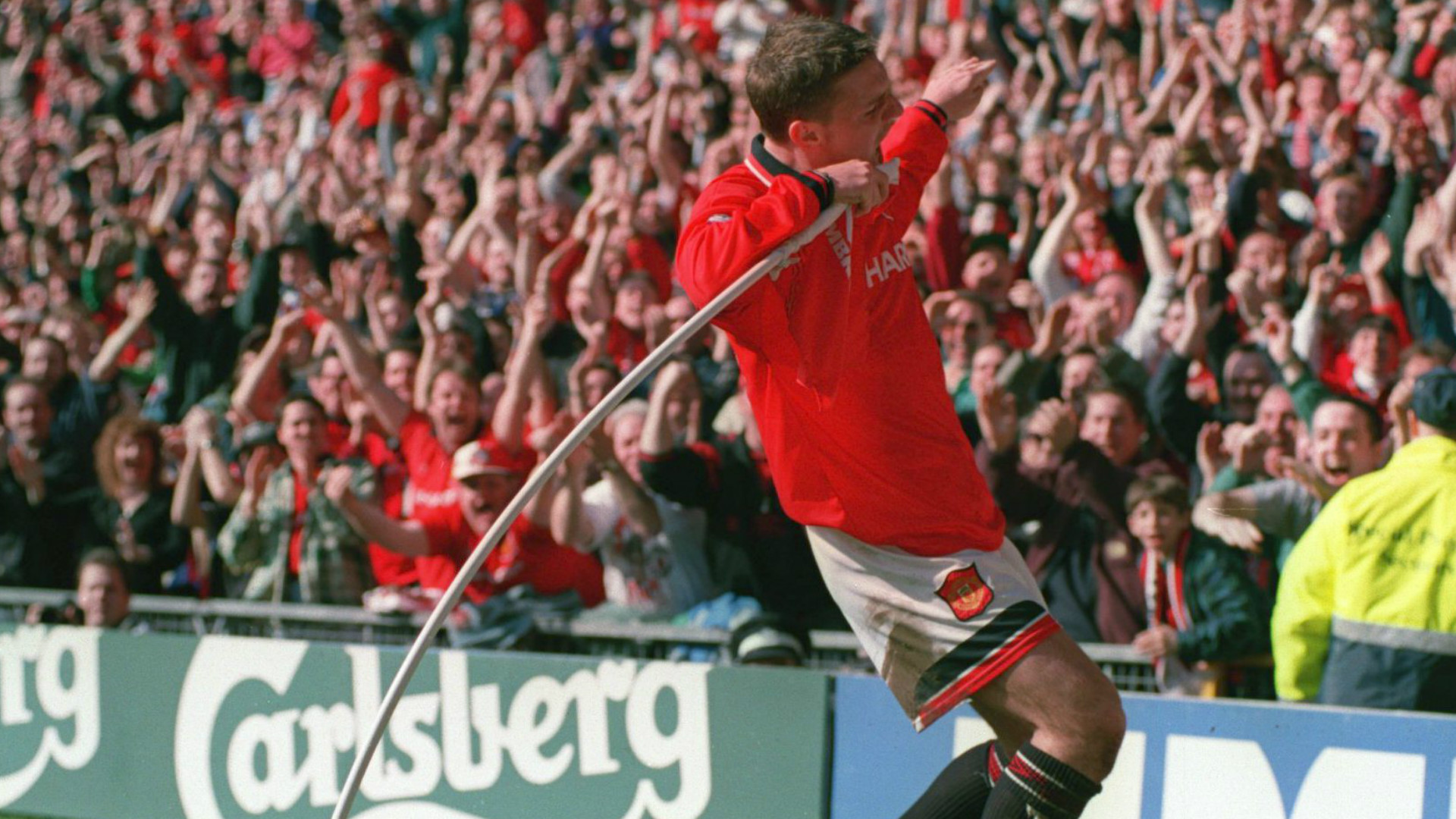 Meanwhile, his relationship with Ferguson would suffer as a result of his nocturnal activities. The craggy Govan native, not for the last time, struggled to understand the lifestyle choices of the 1990s metrosexual male. Sharpe's penchant for flash cars, daft haircuts, girls and nightclubs saw him repeatedly feel his manager's wrath, culminating in the notorious occasion when a fuming Ferguson stormed round to break up a house party at the winger's house and tear a strip off a petrified Sharpe and Giggs. Sharpe seemed to feel the effects of the dreaded 'hairdryer' more than most. In his autobiography, engagingly ghostwritten by David Conn, he suggests that Ferguson felt that his extracurricular interests were making him lose focus and stray from the manager's control. But the bollockings did more harm than good. The player himself highlights the effect that the foul-mouthed, brutal rants could have on a more sensitive player's confidence. That he first began to feel them in the days after his famous Highbury hat trick and winner against Everton (for giving a newspaper interview and a silly celebration respectively) suggests the seeds of his Old Trafford exit were sewn almost before his career there had properly got off the ground.
Confidence, perhaps surprisingly, seems to have been an issue almost since the beginning. In 'My Idea of Fun', he talks of his insecurity having not received the incredible technical training that his peers had from the legendary Eric Harrison – the man who oversaw the development of Giggs, Scholes and Beckham. Instead, he had arrived from the fourth division and was thrown in at the deep end. Sharpe was concerned that his game relied too heavily on pace – knocking the ball down the line and sprinting past his marker – and felt that he would have benefited from a proper critique from his manager instead of being told he was "fuckin' rubbish and playing like a fuckin' schoolboy".
Ferguson's party pooping, Sharpe believes, marked the beginning of the end of his time as a Manchester United player. Ferguson seemed to lose faith in him, no longer picking him for the big games. He became more of a utility man, popping up at left back, on either flank or even in central midfield. Beyond a memorable Champions League backheel against Barcelona, his contribution at the club rarely came close to his electric impact in 1990/91, and when he didn't even make the bench as United clinched the title in 1996, he decided he wanted to leave. Unlike many others to head for the exit, this was all Sharpe's decision – Ferguson tried to get him to reconsider. His mind was made up however. He was crossing the pennines.
A club-record £4.5m move to Leeds should have been the making of Sharpe. Instead however, it proved the catalyst for a decline that saw him talked of as less the new George Best than the new Frank Spencer. Misfortune befell him at every turn. First, the manager who signed him, Howard Wilkinson, was sacked early into the season, to be replaced by George Graham, whose distrust of flair players meant that Sharpe faced an uphill struggle to establish himself. When it finally did seem as if he was winning Graham over, he snapped his cruciate and was out for the best part of a year. When he returned, David O'Leary was in charge, and it all it took was one disastrous UEFA Cup showing against Roma and he was axed, the Irishman telling him "you're not getting up and down the wing like you used to". A loan spell at Sampdoria started promisingly but Sharpe was again the victim of circumstance, the controversy surrounding head coach David Platt's lack of qualifications seeing him again stranded as the manager who brought him in fell by the wayside. He moved to Bradford in 1998 and helped them to promotion to the Premier League, only to discover that the Bantams were a basket case of a club that would lurch from crisis to crisis, owner Geoffrey Richmond's antics creating a toxic atmosphere that threatened to engulf the club. His experiences there, he claims, killed his passion for the game once and for all.
By the time he was 32, he was struggling in the Icelandic league at Grindavik– unable to motivate himself to last the four-month season without having a drink (which was a club rule) and high-tailing it back to England just weeks into his contract. They didn't win a game while he was there. They won seven in a row as soon as he'd departed. After a brief stint as Simon Clifford's latest publicity stunt at Garforth Town, he retired in 2004, a mere footnote in the annals of Manchester United history, where his old boozing pals Giggs and Keane went on to write their own chapters.
So what went wrong? Certainly, the injury jinx played its part in a very stop-start career – he even managed to crock himself in his post-football career as Z-list celebrity for hire, cracking a rib on Celebrity Wrestling and injuring his knee on Dancing on Ice. However, despite his autobiography's attempts to blame pretty much everyone and everything but himself, it's hard to shake the feeling that the common perception of a man who threw it all away is on the money.
Sharpe can't fathom why every manager he played for ended up dropping him. He suggests, dubiously, it was because he played with "a smile on his face" and everyone in football was so serious. But for a man supposedly concerned about his game being one dimensional, he didn't seem to work at it much. By his own admission he was reliant on pace, but when that faded, he couldn't/wouldn't adjust. While Beckham would famously stay behind after training and practice his crossing, Sharpe was presenting Junior Gladiators and The Making of An Audience with The Spice Girls. Indeed, in his book he mocks the players at United who would put the extra hours in rather than go out on the lash:
"…watching videos of our own performances, reading statistics on the West Ham right back and going to bed with liniment on may well have been how Phil Neville coped with the situation, but I'm not him."
 "Practising long throws, Gary Neville's idea of fun".
For all his protestations, it suggests much that he eulogises his time on Celebrity Love Island: a gig that brought fame for doing little more than lounging around a pool with scantily clad TV presenters: "It was great to have whole days with nothing to do but laze and banter the time away…for better or worse, everything that happened in football brought me to this."
There isn't anything wrong with that of course, and the man himself says he regrets nothing. It's just a shame that football turned out not to be Lee Sharpe's idea of fun.